We The People- Leather Keychain
Regular price
Sale price
$24.99 USD
Unit price
per
Sale
Sold out
Share
View full details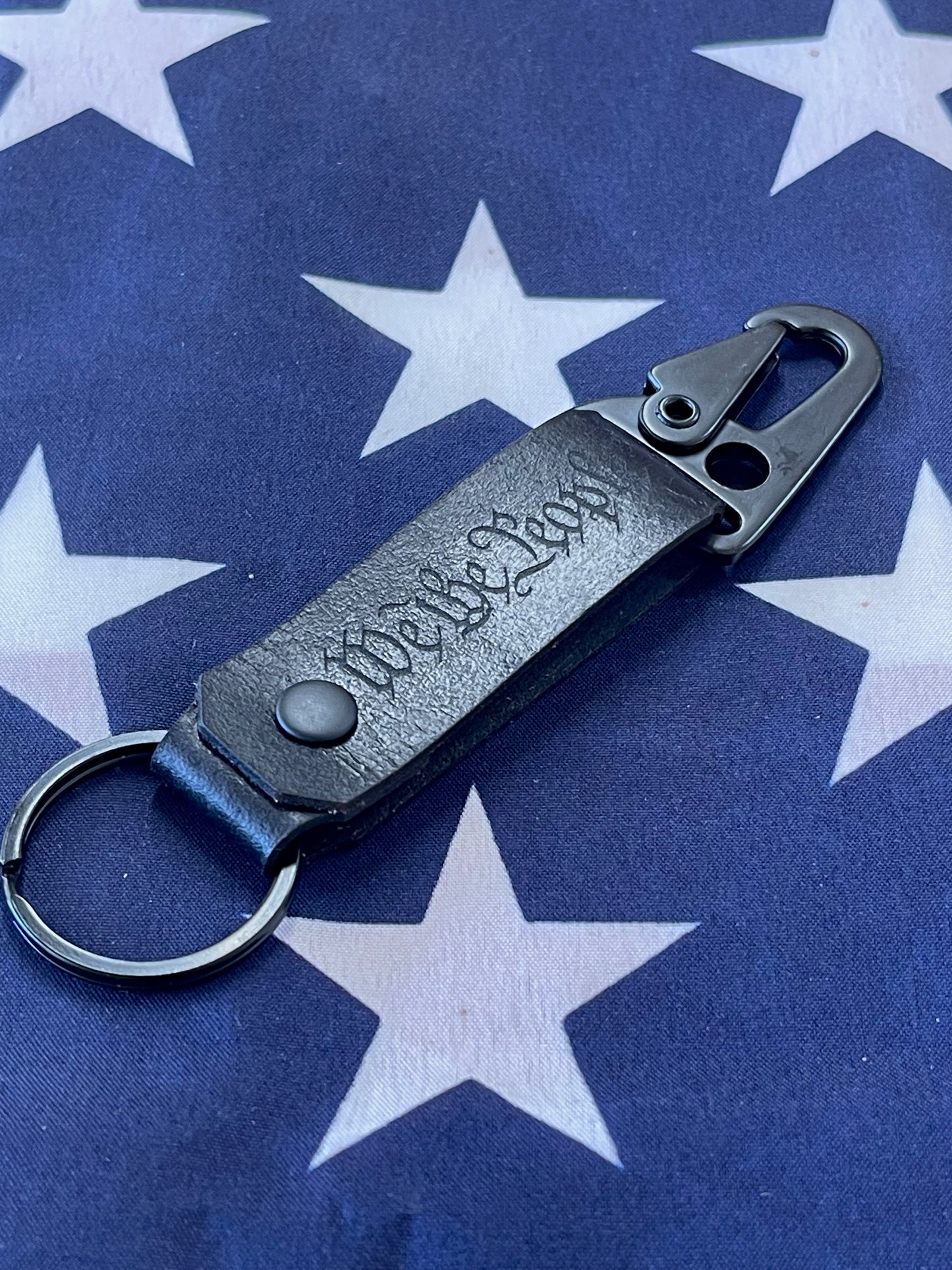 Best Friend Keychains
Process for Creating Custom Best Friend Keychains
With Keychain Collective's custom best friend keychains, you can have an amazing memento made that perfectly captures how close you and your best friend are. You can choose a set of best friend-matching keychains that make it so the two of you are always in sync. You can also just have a pair of best friend keychains made that go well together, the way you two complement each other. 
Either way, Keychain Collective can help ensure that both you and your best bud can bring a reminder of your friendship with you any and everywhere that you go. Plus, the process to have these custom best friend keychains made is super simple. No matter your dream, we can help you realize it and create a beautiful keepsake for you and your pal. 
To start, you'll need to decide what material will be used as the base of the keychain. We provide custom keychains in both leather and wooden varieties, and both options come in numerous colors. If you go with the hand-dyed leather choice, you can then select black, brown, tan, red, oxblood, turquoise, or pink to color your best friend keychain. Alternatively, if you prefer hardwood, there are gun black, bronze, and silver shades available in both maple and walnut. 
Once you've chosen the base for your custom best friend keychains, you can simply upload the rest of your design information. We'll emboss the leather or engrave the wood to perfectly capture your vision. Keychain Collective will help you create beautiful best friend keychains that your bestie will treasure forever. 
Give The Perfect Gift of Personalized Best Friend Keychains
Gift-giving can be tricky. Your friends deserve the best, but finding an item that perfectly captures what your loved ones mean to you can be challenging. Fortunately, custom best friend keychains solve that problem. They make great gifts because they can be personalized to your pal and the relationship you share, plus they offer practical uses too.
Your best friend will love carrying a beautiful token of your friendship that is entirely unique and made just for them. Make it extra special by incorporating a sentimental image or meaningful phrase into the design. It's the perfect way to commemorate a treasured memory or reference a beloved inside joke! 
Best Friend Matching Keychains
Show the world your best friend bond by matching with your buddy at all times. If you each have a keychain with the same inscription, you'll feel closer to your friend every time you unlock your door. You may also choose a pair of keychains that each have half of a design. When you put them together, you'll be able to view the complete picture!
No matter which route you go, if you get a set of keychains that match, you'll be able to feel close to your bestie, even when you're far away. It is also an especially great gift if your friend lives in a different city or area, as you can each carry a reminder of the other at all times. Whenever your best friend reaches for their car keys, they will think of you.
Cute Best Friend Keychains
Your custom best friend keychains can be personalized in many ways to suit your (and your best friend's) style and your friendship dynamic. However, choosing a cute design is always going to be well-received! Keychain Collective can engrave a drawing of your best friend's favorite animal onto a hardwood keychain for a fun little present. Alternatively, you can have a lovely floral picture embossed onto a leather keychain to make for a pretty and sweet keepsake. There are many possibilities to create something awesome and adorable, and Keychain Collective can help make your vision a reality. 
Funny Best Friend Keychains
Another route to go with custom best friend keychains is to insert a bit of humor into the design! Perhaps you and your pal refer to each other with silly terms of endearment. Having these funny nicknames engraved or embossed onto a keychain is a great way to put a smile on their face. Likewise, if you share a running joke or favorite movie quote with your buddy, you could reference it on your best friend matching keychains. It will ensure that you are always reminded of the good times every time either of you reaches for your keys. 
Order Your Best Friend Keychains Today!
With our simple ordering process, getting the perfect friendship keepsake or gift for your bestie couldn't be easier. From there, we'll craft your customer best friend keychains with care and love from our base in Southern California. So don't hesitate! Go ahead and place an order for a custom best friend keychain to delight your bud and show them how much you care for them. 
Button label